Door Of Hope Christian Church
50 Glen Dhu Street, South Launceston, lutruwita (Tasmania)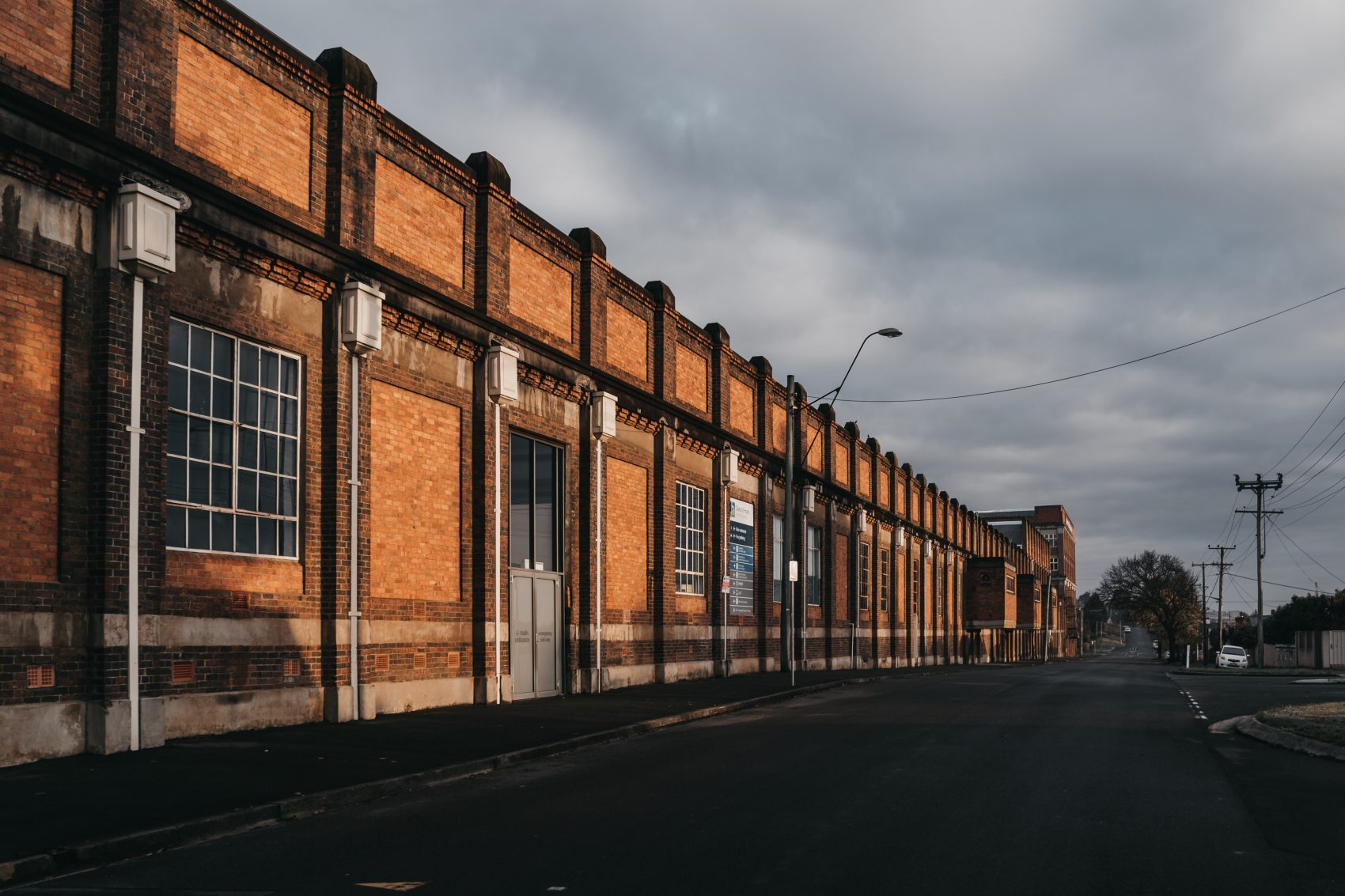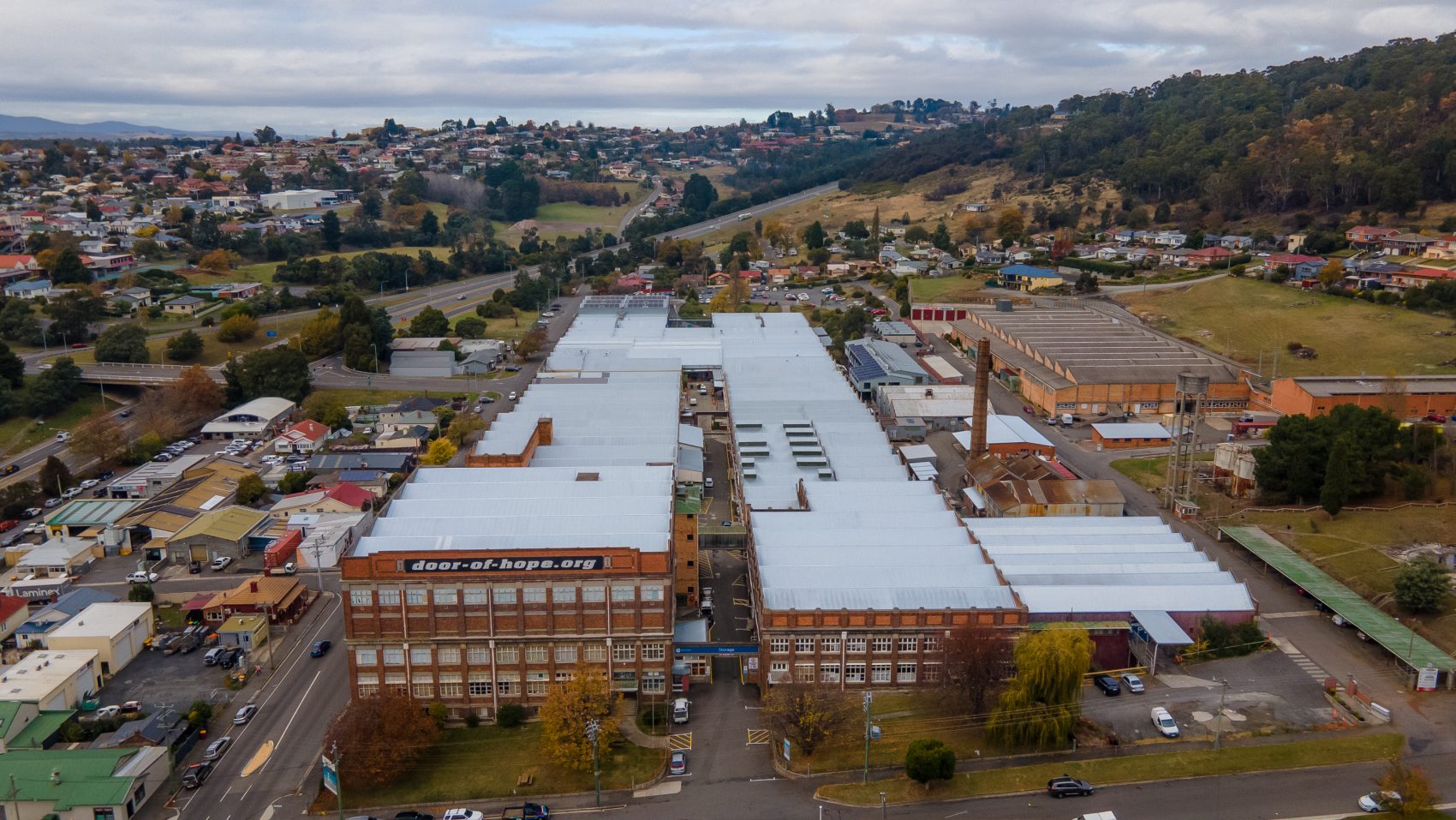 BOOKINGS OPEN 12 NOON, FRIDAY AUG 13, 2021
The Door of Hope Christian Church has been located in the iconic former Coats Patons textile factory since 2003. Coats Patons has long represented a significant and historical part of Launceston's industrial era. This building has been widely accepted by Heritage Tasmania as a "fine and particularly large example of an Inter-war Chicagoesque industrial building, being the largest single building believed to have been constructed in Tasmania prior to the 1920s, and for the innovative way the mill was expanded by raising the roof in the 1930s." According to an Examiner report in 1922, in the first stage, around 25,000 cart loads(!) of earth was removed, 1.5 million locally made bricks were used, and 5,500 m2 of glass was used in the saw tooth windows.
Take a tour through 130 years of the history of the building and its adaptive reuse redevelopment – which included the replacement of 21,000 m2 of asbestos roof (around 500 tonnes of asbestos was removed) – and while you're there, consider the legacy of the building looking to the future.
Since 2014, S. Group is proud to have worked alongside, and support the Door of Hope Christian Church in its endeavour to breathe new life into the heritage-listed South Launceston property. This is a property without equal in Tasmania, and arguably Australia. A property that once was a life-blood for northern Tasmania through industry and the subsequent employment that it offered, is being reimagined, repurposed, and revitalised to once again bring life to, and support the northern Tasmanian community.
The development also involves eight different capital works projects. The site houses the recently opened multi-purpose and exhibition centre (which is one of the current 'homes' of the Tasmanian Government's COVID-19 vaccination roll-out), Palmer's Dance Studio, the expansion of the PYCSAM Health and Fitness centre, and the redevelopment of the Outside School Hours Care facility, with all of these individual uses driven by an overall site facility and development masterplan.
Architect: 2014 – present redevelopment: S. Group
Highlights: Adaptive reuse redevelopment, listed on the Tasmanian Heritage register
Building Specs: Built: 1922-1933 by Hinman, Eright and Manser Ltd. Redevelopment: 2014 – present.
Pre-booked Tour Times: 1 pm, 1.30 pm and 2.30 pm
Duration: 90 minutes
Tour Departure Point: Please gather in the main foyer – follow the venue signage either via the front entry or off-street car park and undercover car park
Accessibility: Level wheelchair access via the undercover car park, some uneven surfaces in laneway
BOOKINGS OPEN 12 NOON, FRIDAY AUG 13, 2021
Commercial
Industrial
Place of Worship
Workplace
Heritage
History of Launceston
New to Program
Suitable for Children
Pram Friendly
Uneven Surfaces
Wheelchair Friendly
See. Snap. Share. Win.
Share your pics of your favourite places and the stories that go with them on Instagram or Facebook, using the hashtags #oh_hobart and #oh_launceston to enter this year's photo competition. Stay tuned for a host of prizes.