Back On Your Bike | Group Rides (Intermediate)
9 Franklin Wharf, Hobart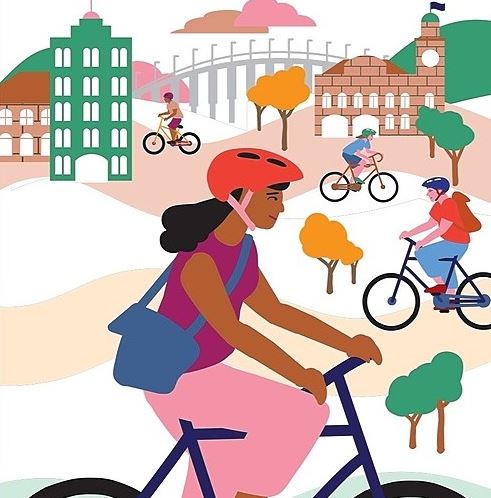 Whatever your goal—to move more, to get healthy, connect with others, save on transport costs or tread lightly— Back on your bike can give you the motivation to work towards that goal.
Who can join?
This Back on your bike group riding tour for Open House Hobart is suitable for intermediate riders wanting to build on their road-riding awareness, skills and confidence in a safe and encouraging environment. Under 18s may attend in the presence of a guardian.
What's covered?
Led by one of our experienced instructors, this Back on your bike group ride is tailored to the groups needs with a focus on navigating the Hobart area by bike, and developing confidence for commuter riding.
7km group ride, stopping at free OHH sites
Stops include Fusilier Cottage, #THEBAETAS, and Stone Flower / The Barn
Some hills and riding on footpath, shared-path and quiet roads
What is the route?
Meeting outside the OHH headquarters at 9 Franklin Wharf, we will follow Castray Esplanade to gradually climb up to Hampden Road's Fusilier Cottage. Taking the quiet back roads through Battery Point and into Sandy Bay to visit Margaret Street's #BAETAS, we can then follow the uni student commuter route up to Fitzroy Gardens and into the CBD via Molle Street. Just a few more pedals (or push uphill, there is no shame in it!) to get up to Forest Road's Stone Flower / The Barn. Then it's back to headquarters via Collins and Elizabeth Streets (the Hobart bike commuter route staples).
What to bring?
Bring along your bike, helmet and drink bottle – or request to borrow one of our bikes on the day (limits apply).
What's the cost?
Back on your bike is free to join!
Added bonus!
All participants get a free 3-month membership with Bicycle Network.
This event is organised by our friends at the Bicycle Network. Please head to their website for more information. 
Back on Your Bike
History of Hobart
Steep Incline
Uneven Surfaces
See. Snap. Share. Win.
Share your pics of your favourite places and the stories that go with them on Instagram or Facebook, using the hashtags #oh_hobart and #oh_launceston to enter this year's photo competition. Stay tuned for a host of prizes.