SV May Queen Vessel
Constitution Dock, Hobart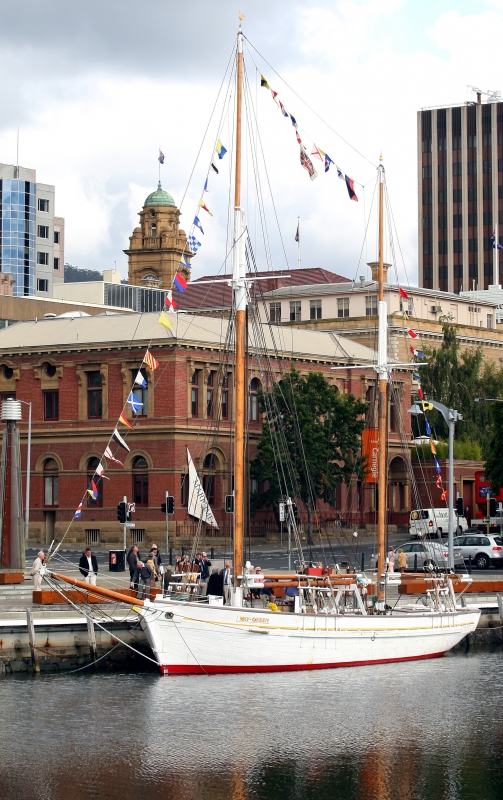 Designer and Builder: Alexander Lawson (1867)
The SV May Queen is Australia's oldest sail trading vessel and is one of only a handful of wooden vessels of her era still afloat in the world.
Built at Franklin on the banks of the Huon River in Tasmania's south in 1867, May Queen's working life spanned a century of development, with the changing nature of the work and cargos carried reflecting the changes and growth of the communities served.
Fitted with a retractable centreboard to enable the vessel to get close inshore or into shallow rivers and inlets, the SV May Queen is 21 metres long, 5.3 metres wide and has a draft of 1.5 metres when fully laden with 25,000 super feet of sawn timber (50 tonnes). The hull is of Tasmanian blue gum and stringy bark, the deck is of Tasmanian Celery top pine and the spars are of imported oregon. Mind your head and take a look onboard with volunteers from the May Queen Trust and imagine sailing down the Derwent towards Bruny on a frosty morning as the world around you wakes
Open: Saturday 12 November 10 am – 1 pm
Accessibility: Steep steps, ramps, slippery surfaces and overhead obstacles. Please take care and mind your head.
Note: Please wear closed toe sturdy shoes.
Heritage
History of Hobart
New to Program
Suitable for Children
Level Changes
Stair Access Only
Steep Incline
Uneven Surfaces
See. Snap. Share. Win.
Share your pics of your favourite places and the stories that go with them on Instagram or Facebook, using the hashtags #oh_hobart and #oh_launceston to enter this year's photo competition. Stay tuned for a host of prizes.