Tim Ross
Comedian, self proclaimed 'design nerd' and Open House Hobart Ambassador Tim Ross has always had a passion for architecture. Over the last six years, he has performed his live Man About the House live show in architecturally-significant buildings and homes all over the world, followed by numerous architecture and design-themed talks, television shows and publications that tap into the essence of Australian life.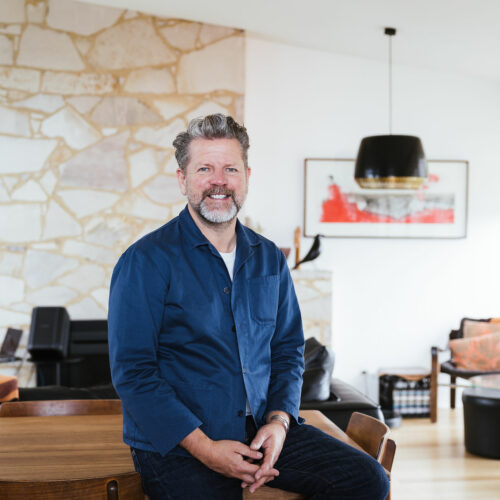 ---
Tim also passionately supports important issues in Australian architecture and design. In 2018, Tim was awarded the National Trust Heritage Award for Advocacy, which recognised his activism in drawing attention to Australia's legacy of modernist architecture and promoting its conservation. In 2019 Tim was awarded the National President's Prize from the Australian Institute of Architects, to 'recognise him for his advocacy, activism and outstanding contribution to the architecture profession'.
Fresh from his acclaimed ABC TV series Designing A Legacy, Tim will return to Hobart for a series of intimate live shows in the iconic Dorney House as part of Open House Hobart's 10th anniversary program. On Designing A Legacy, Ross featured the unique modernist home designed by renowned Tasmanian architect Esmond Dorney, built in 1978. Tim Ross will take the audience on a hilarious, nostalgic, personal and often poignant journey though our unique relationship with the Australian home.
Ross is clearly a fan of Dorney's architecture and Hobart's built environment more broadly. 'Hobart's buildings tell the story of the city more elegantly and evocatively than anywhere else in the country, which is why I'm delighted to be involved in Open House Hobart this year with my show at the Dorney House. Our best architecture elevates our spirit and tells our stories. The house that Esmond built for his family on the top of Porter Hill speaks of the importance of experimentation and connection to nature, something that has become core to Tasmanian architecture today', says Ross.